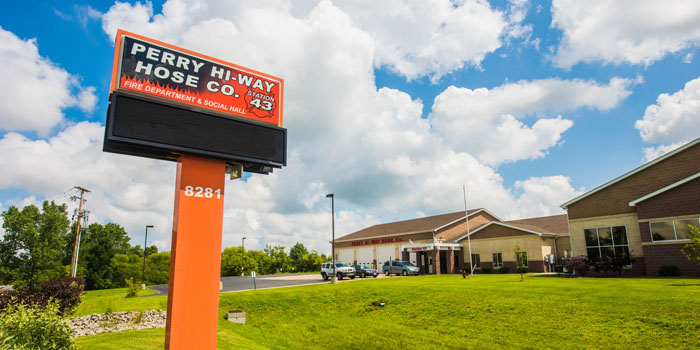 Summit Township has one volunteer fire company, Perry Hi-Way Hose Company, founded in 1948 by a group of concerned residents. Among them was George Gauthier, who transformed a used vehicle into the first fire truck which served as a combination pumper and tanker. Over the years it continues to be a very dedicated group of concerned residents that keep Perry Hi-Way Hose Company running smoothly.
The original station was located near the intersection of Bloomfield Parkway and Route 97. In November of 1995, the two-bay station was replaced with a much larger building at 501 Robison Road East. Over the years a training grounds has been added to the site and is utilized by emergency responders throughout the area.
"Station 2" (Erie County Station No. 43) was constructed at 8270 Peach Street in 1962.The 90′ x 100′ foot building included a social hall and additional storage for fire-fighting equipment and ambulances. The building served the needs well until it became too small to accommodate an ever growing fire department and large modern-day equipment. In January of 2010 the building was sold and a new station was constructed at 8281 Oliver Road. This building includes a social hall and sleeping quarters for the firefighters.