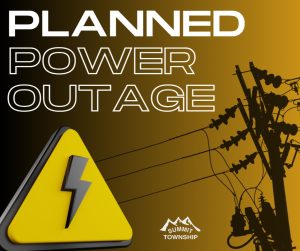 PLANNED POWER OUTAGE
Message from Penelec:
Penelec has a planned outage scheduled for Thursday, May 11, 2023, starting at approximately 8 AM until approximately 3 PM, and a rain date for Thursday, May 18, 2023, same time.
Crews will be making repairs on overhead facilities on Townhall Rd. Summit Township has 3 accounts that will be affected.
A total of 143 customers will be affected by the outage including Montessori in the Woods, Summit Methodist Church, Time Warner Cable, Verizon Communications, and Summit Township.
The rest are residential customers in the vicinity of ENNIS DR, GREENTREE DR, HONEYSUCKLE DR, JULIE ANN LN, LAUREL DR, PARSON RD, SODHAVEN DR, TOWNHALL RD and W TOWNHALL RD.
The call center will be delivering automated calls to all affected customers. Assuming we have a valid number on the account, and it can receive calls directly, customers should get the message.
If a call is not received, we probably do not have a good number to reach the customer, or the customer will not be affected by the outage.
Call #1 is set for Thurs, 4/27/23
Call #2 is set for Mon, 5/8/23