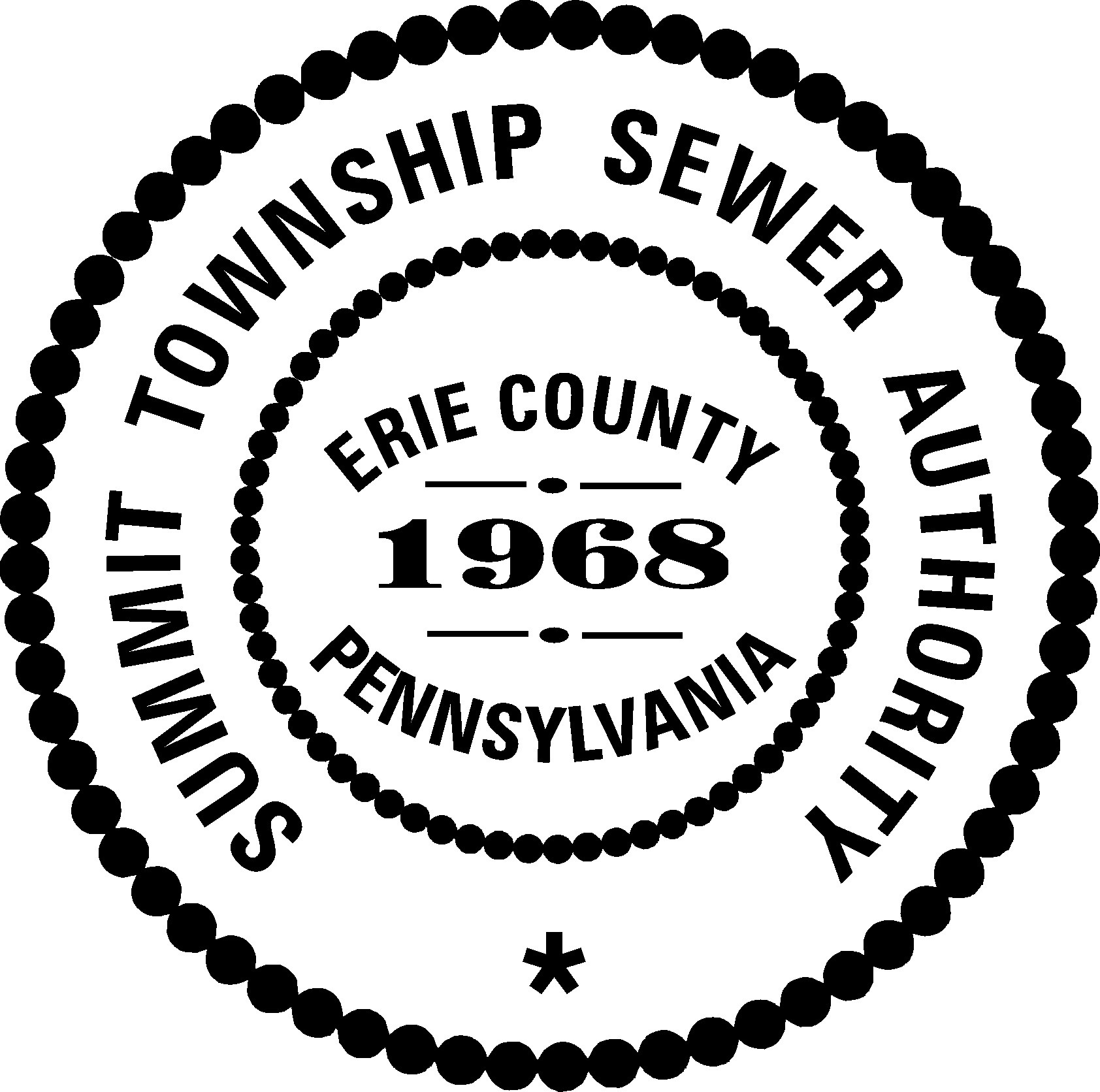 SUMMIT TOWNSHIP SEWER AUTHORITY
8890 Old French Road, Erie, PA 16509
(814) 868-4495
Office Hours:
Monday – Friday | 8:00am – 4:00pm
(excluding holidays)

To reach us via email, contact
Caitlyn Haener-Schwab,
Administrative Supervisor at
chaener@stsaeco.net
NEW ELECTRONIC SERVICES
VIEW BILL OR AMOUNT DUE ONLINE (FREE Service)
You can view your bill online as well as your current amount due. You don't have to pay online to view your bill online.
Please consider opting out of receiving paper bills to help reduce costs.
3 Easy Ways to Pay
If you have questions about the amount of your bill or need service, call the Sewer Authority office at 814-868-4495.

PAY ONLINE*
CLICK HERE TO PAY YOUR SEWER BILL ONLINE
The first time you will register; after that, payments are 3 easy steps.

A special note to customers of both Summit Sewer and Summit Water: Both utilities process electronic payments through Payment Service Network (PSN). When you log into PSN, you will have to set up both utilities, using your separate sewer and water account numbers. Please be careful to apply your payment to the correct utility. Because we are separate agencies, we are not able to transfer payments between water and sewer accounts.
PAY BY PHONE*
Call toll-free 877-885-7968. Make sure to have your bill handy to provide your customer account number.
PAY BY MAIL OR BY DROP BOX
The Summit Township Sewer Authority office is located at 8890 Old French Road, Erie PA 16509
Payments may be deposited anytime in the drop box located on the S.E. corner of the Sewer Authority building.
*When paying online or by phone:
We accept Visa, MasterCard, Discover and American Express
A convenience fee of 3.0% (+50¢ if payment is less than $100) will be added to credit/debit card payments
A convenience fee of $1.10 will be added to checking/savings payments
You can pay immediately, schedule a payment or set up Auto-Pay for the amount of your bill. (Auto-pays must be set up online.)
You can print receipts, view past payments, see status of payments, stop Auto-Pay by going online.
We use Payment Service Network to process our payments. PSN has been certified as maintaining the highest level of security as required by the credit card industry.
If you need assistance with paying online, call PSN at 866-917-7368.
CUSTOMER SERVICE DURING COVID-19
We will continue to comply with all local and state guidelines for public health and safety during the COVID-19 emergency. We appreciate your patience as compliance may impact our customer services. Please plan ahead and expect delays. We encourage customers to pay electronically or use the drop-box to make no-contact payments. At your request, a receipt can be mailed to you. Be assured that operations staff will continue to respond to sanitary sewer emergencies.
If you are interested in attending a Regular Business Meeting, please check the township website or call the Authority office to find out if the meeting will be virtual or in-person. No matter the format, we will work with you to ensure that you are able to participate.
Sewer Authority
Meeting Agendas & Minutes
The Summit Township Sewer Authority is an Operating Authority which provides municipal sanitary sewer to designated Summit Township residents. The Sewer Authority is located at 8890 Old French Road, Erie, PA and can be reached at 814-868-4495.
| Name | Term |
| --- | --- |
| Laban Marsh | Term expires December 31, 2022 |
| Michael Rose | Term expires December 31, 2023 |
| Chris Fette | Term expires December 31, 2024 |
| Michael Andrus | Term expires December 31, 2025 |
| Mark Welka | Term expires December 31, 2026 |
The regularly scheduled meetings of the Summit Township Sewer Authority for 2022 will be held at the Sewer Authority Building, 8890 Old French Road, Erie, PA on the last Thursday of each month at 9:00 A.M. The reorganization meeting will be held Thursday, January 27, 2022 immediately followed by the business meeting. The November meeting will be held November 17, 2022 due to Thanksgiving. The December meeting will be held on December 22, 2022 due to Christmas. If you plan on attending a meeting, please let us know. Contact Caitlyn Haener-Schwab at chaener@stsaeco.net or by phone at (814) 868-4495. Caitlyn will gladly add you to the meeting agenda.
Incorporated in 1968, a five-person volunteer board oversees the operation of the Summit Township Sewer Authority. A manager, two-person office staff, four system operators and Township employees as needed, are employed by the Sewer Authority. Service is provided to over 2,000 property owners. The system consists of nineteen (19) lift stations, 41.5 miles of gravity lines and 5.5 miles of force mains. Sewage treatment is accomplished using the Joint Transportation and Treatment Facilities in Millcreek Township and the City of Erie.